Had a great time Saturday clearing the area ready for development.
So we started doing a bit of clearing up this afternoon, 4 of us came down, and found it a little tricky to get the fire going to burn some of the garden rubbish we were clearing. I then learnt something new about Tracy. The normally calm office worker by day turned into a fire starter by night! She rushed off into the church and came back with bricks, dry wood and newspaper, then wosh! We were off!! Joy turned up after an hour with coffee and chocy which was amazing!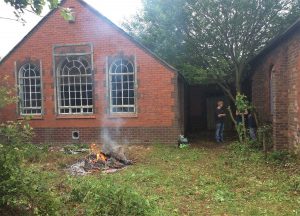 We have also so had lots of locals come and chat, I've really enjoyed the warm reception people have given us. We chatted to some younger guys who were interested in it becoming a skate park or a trampoline park! A biker stopped for a chat, he loved the idea of a cafe, there was then a preacher guy who asked if he could use it for his congregation! All great ideas.
My favourite visit was a guy who came to see why there was smoke. He asked are you doing something with this place? I said we were hoping to turn it into some kind of community space, and he punched his fist in the air and said come on!! He asked if we were here every day, I said not yet, he said well next time I'll see you I'll bring some drinks down, I only live down the road!
After 4 hours, we stopped putting things on the fire. We then realised, it took quite a bit of time to stop a fire! Another learning point, I think there are going to be a few of them!
Thanks to everybody who drop by for a chat!